Picture, Stories and Brand Power
They say that a picture tells a thousand words – and I am inclined to believe them. Even if your brand does not have the budget or the type of product that would benefit from a movie or televised advertisement, that doesn't mean that it can't find its place using a still image. Pictures are an important part of brand image, and they in themselves can weave an intricate and mesmerising story that can allow your consumer to imagine more possibilities than merely being fed a typical advertisement.
How can a picture tell a story?
Take the government campaign in the UK, 'This Girl Can' as an example. The campaign aims to encourage women to take more of an active role in their fitness and well-being through exercise. The UK government recognised that women were not exercising as much as men, and that male attendance at gyms far outstripped female.
Suggested Solution
To create a story that females could relate to easily, the UK government had formulated a creative campaign to get females back into the gym, improving their fitness level. Surprisingly, the target audience of the campaign (or at least what it appears on the surface) is not the usual archetypal consumer.
The lady in the photograph has been expertly chosen, and the following image wad produced as a good example of a story in motion – without it actually being in motion: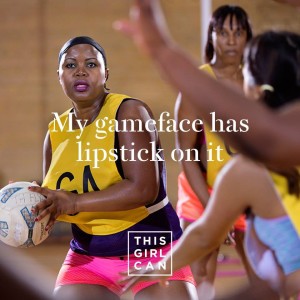 (Image Source: www.gov.uk)
There are many women in the UK an average size of 16 in England alone. The image of this campaign was widely spread throughout the UK, appearing on different communication channels (eg. Billboards, bus & train stops, social media…etc). Any Female that sees these images, will actually find the model relatable – they will associate and empathise with being that size.
However, being able to see a female that is not only that size, but exercising and wearing makeup, will make the target audience motivated, feeling like they can achieve that too. In essence, the campaign message is empowering different audiences to strive, challenging their status quo, and trying to achieve beyond their current situation.
Still pictures & continuous story!
The messages continues to forge links between the campaign story and individual's self-story.  Using the same female (the same character to have a stronger story) to tackle another public issue (i.e. running in public). You will note the sense of humour regarding having 'jiggly bits' in public.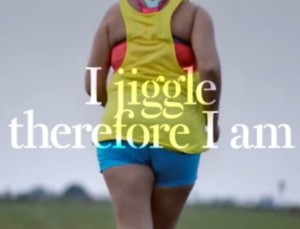 (Image Source: www.gov.uk)
As was often parodied in Bridget Jones by writer Helen Fieldling, it is rather hard to love one's 'wobbly bits' – in fact, it is something that has often been written about and discussed in great detail online.
However, by encouraging women not to be embarrassed the campaign is again empowering them. The main message here is that all of us live in a real world and not everyone exercising has to be fit or slim. In another words, people with extra weight, you are not alone!
The second image also features the outside world- the public. Thus, allowing females to imagine a non-gym like scenario, unlike with the first image. The use of these images together tells a variety of stories about the person in the photograph, and therefore provides a comprehensive story to the target audience. In one way or another, it allows people to be in-charge of their own stories.
If I'm a brand marketer: how can I empower my brand and produce some pictures (creative artworks) embedded with deep stories?
Brand Power is undoubtedly enhanced by the stories behind them. Nevertheless, sometimes it can be difficult to properly utilise those stories in the brand's best interest. Many brands integrate their above the line and below the line campaigns to communicate comprehensive stories. But the thing is, most of the times those brands are putting some microscopic plays to show the consumer how their brand can fit into their lives.
However, in some circumstances it could be better to reflect the reality of their target audience by  letting consumers take on the brand themselves as their own identity. One way to achieve that could be through creative photography. Maybe some still images taken from a busy and action packed life of someone already living your brand's story. That allows more consumer to be engaged, asking questions with curiosity. Hence, increasing the awareness and recall level of your brand.
Try using an image or Artwork with just a couple of words. That would enable your target audience to unleash their imaginations. As a result, increasing your brand power and its relevancy in their minds.
---